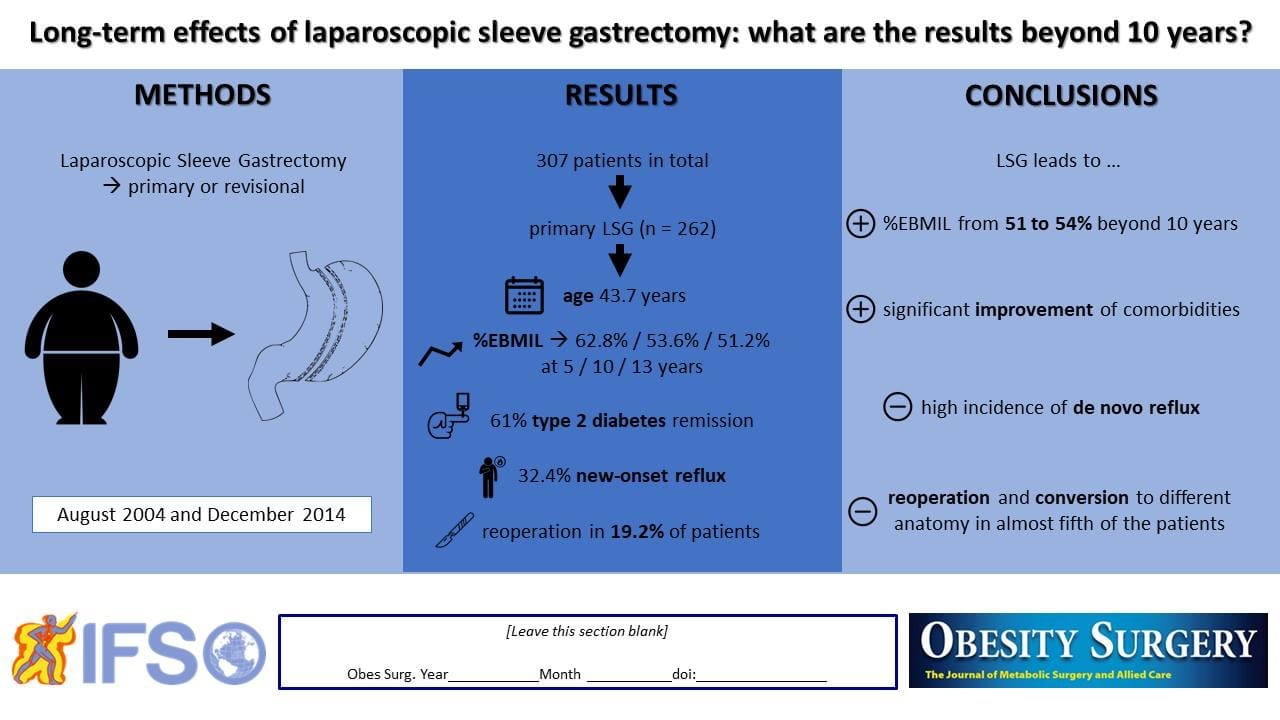 Long-term Effects of Laparoscopic Sleeve Gastrectomy: What Are the Results Beyond 10 Years?
Purpose: Laparoscopic sleeve gastrectomy (LSG) has become the most commonly performed bariatric procedure worldwide. Newer studies providing long-term follow-up show a high incidence of weight regain and a high incidence of reflux. The study's objective was to present 5 to 15-year follow-up results regarding weight loss, comorbidities, reoperation rate, and a potential learning curve.
Methods: This is a retrospective analysis of prospectively collected data. Patients who underwent LSG between August 2004 and December 2014 were included.
Results: A total of 307 patients underwent LSG either as a primary bariatric procedure (n = 262) or as a redo operation after failed laparoscopic gastric banding (n = 45). 
Mean body mass index at the time of primary LSG was 46.4 ± 8.0 kg/m2, and mean age at operation was 43.7 ± 12.4 years with 68% females. Follow-up was 84% and 70% at 5 and 10 years, respectively. The mean percentage excess body mass index loss (%EBMIL) for primary LSG was 62.8 ± 23.1% after 5 years, 53.6 ± 24.6% after 10 years, and 51.2 ± 20.3% after 13 years. 
Comorbidities improved considerably (e.g., type 2 diabetes mellitus 61%), while the incidence of new-onset reflux was 32.4%. Reoperation after LSG was necessary in almost every fifth LSG-patient: 24 patients (7.8%) were reoperated due to insufficient weight loss, 12 patients (3.9%) due to reflux, 23 due to both (7.5%).
Conclusions: LSG provides a long-term %EBMIL from 51 to 54% beyond 10 years and a significant improvement of comorbidities. On the other hand, a high incidence of insufficient weight loss and de novo reflux was observed, leading to reoperation and conversion to a different anatomy in 19.2%.